Munster 19 — London Wasps 3
God, that felt good!
(Pics (c) Inpho Photography from www.munsterrugby.ie)
Like Ronan here, I went home with two smiles on my face, and Bullet had another two, but that was fine. There were enough smiles to go round for everybody last night, and even though we were all soaked to the skin, nobody cared. It isn't every day you welcome the mighty London Wasps, reigning European Champions, into your football ground and send them home with nothing.
My God, did it feel good.
And let me add that London Wasps are not only the Champions, but a very hard crowd of bastards indeed. Serious professionals led by a consummate professional in Lawrence Dallaglio, and an outfit to be both respected and feared. A bunch who did not come here for fun, or for a weekend in the pub, but to extinguish our challenge. Unfortunately for them, it didn't work that way, as Munster calmly and professionally dismantled them, outplayed them, outwitted them and sent them home bereft of title and of hope. And wet.
(By the way, Wasps have an excellent blow-by-blow match commentary on their site here).
It was a grim day. Grim. Damp. Brooding and dark. Did I mention grim? It rained, and then it rained some more. And then it rained. It was one of those days when you'd prefer to be stranded in the middle of the Sahara, with volcanoes erupting all around you and an iceberg crushing you to death while wild Tasmanian devils gnaw at your armpit. At least it wouldn't be raining.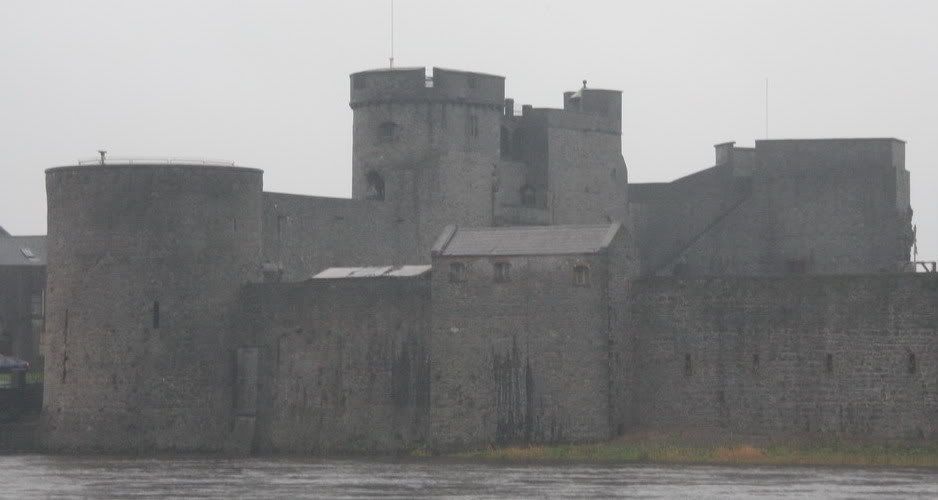 Wasps started well with an early three points, but that was the end of their success and we went in at half time, ahead 9 points to three. When Dougie Howlett put in this tackle in injury time, Wasps knew they could look forward to a testing second half, and Munster fans began to relax, after they'd stopped laughing.
Now, my friends, I have an apology to make. I'm afraid the quality of photography is poor because the dampness, and the rainingness, and all the wetness steamed up my lens and eventually forced me to put the camera away for its own safety, but still, I have a few of my own pics for you as well as the ones I stole from Wasps and Munster Rugby.
Here's the half-finished construction site that we call our stadium. It'll be great when it's done, but right now, it's all a bit strange and a bit surreal, and probably an intimidating place for most visitors, though not for London Wasps who really don't care what the supporters think of them. I mean that as a compliment.
And here's the Munster crowd: fine honest upstanding men and women every one of them. A bit blurred, I'm afraid, but you have to remember these pictures were taken underwater.
I noticed this outside a church on the way to the game, and it gives you some idea of how rooted rugby football is in this town:
This is just a miserable shot of a miserable day as people make their way there.
And these are the mounted police. So necessary at a rugby match in Thomond Park, where there has never in recorded history been a single instance of crowd trouble and where any sort of ugliness, except on the field, would be unthinkable. Still, the horses looked nice.
Here's a few action shots in the murk and the mud.
There's Lawrence Dallaglio, encouraging his troops during a lull in the game. The crowd love him and hate him at the same time. They sang Cheerio when he was sin-binned, and booed him when he came back, but you just know that every one of them wants to bump into him in some Limerick pub after the match and talk football.
It was wet. It was damp. And it was cold. I put my camera away to save it from destruction, and then, when it was safely in its bag, Denis Leamy went over the line for the try, right in front of us. Shit! The crowd went apeshit, Wasps' heads sank chestwards, and the sky began to clear. I kid you not. Once Munster's victory was assured, the elements decided they'd done their job and closed up shop.
We left the ground with only the lightest of mists swirling around in a light breeze, and as we strolled back to town, Bullet turned to me.
You know, he said, I've just realised something. Wasps are out. Clermont are out. And we're through. Who'd have thought it?
You know, Bullet, I replied, you might well be dead right. How about that?
And then we went for fish 'n' chips.
———————————
I love this

———————————
UPDATE
This is the draw for the Quarter Finals on the weekend of 4-5-6 April.
Saracens v Ospreys
London Irish v Perpignan
Gloucester Rugby v Munster
Toulouse v Cardiff Blues
—————————–
Previously