Carpentry is one of my hobbies. I like it. I enjoy working out all the little details and as time goes by, I find myself getting better at it.
Carpentry can be very good for the soul — almost a form of meditation. When you need to work out a complicated joint, or rub a finished piece to a deep waxed sheen, there's no room at the back of your head for all that bad shit that tries to bubble up when you're idle.
It's good, and it gets better.
I started off making very simple things. Picture frames. Flower boxes. Bird feeders. But nowadays, I'd hand-build you a table, if you paid me enough, or a kitchen if you offered me a fortune. I have loads of equipment. Router tables, mortisers, biscuit jointers, a dozen kinds of power saw. All sorts of stuff. And every so often I launch into a project like building a staircase or a kitchen or a Welsh dresser or something like that, and then I get bored again and stop for months. And months and months.
As I told you recently, the kitchen is coming along well:
Now, a coffee table is just a coffee table, no matter what way you spin it. And a kitchen table is just another place to leave dozens of old newspapers, a carburettor, a broken CV joint, a dog-dinner-bowl and the iPod you won't find again for a week.
But suppose you took it a tiny step further, and drilled a few holes in the legs of the coffee table you've just built?
Why the hell would anyone do that? I hear you asking, and once upon a time I'd have concurred. Why indeed?
Well, you see, as I said, a coffee table is just that, and if you make a coffee table you might sell it for, oh, I don't know, maybe 200 euros if it's a really, really nice one. But if you drill a few holes in the legs, and attach chains, suddenly it isn't a coffee table anymore. It's a fucking rack!
And you can sell it to some fool for as much as you want.
Wake up the Gimp!!
I kid you not. Have a look at these pictures if you don't believe me. I could knock any of these things together in an afternoon, and so could you, yet some fool is ready to hand over serious heavy-duty cash for this dross.
Why?
Fucked if I know.
Look at this (all prices in US dollars, I'm afraid. Sorry):
How much?
If it was a funny-shaped chair, how much would you pay?
How about $425?
Now that's not bad for a couple of hours' work, wouldn't you say? Not bad at all.
And then, of course, you have this fool.
How much would you say he's paying for that thing clamping his hands ?
Would you believe $199?
Listen, I'm straight into that goddamn workshop, to knock off a few dozen stocks before lunch.
How about this thing? I'm not quite certain what you'd use it for, though in a routine setting it looks like some sort of garden equipment. Something perhaps for growing sweet-peas or feeding birds. Hard to tell, really, but that's not why we're here. What would you pay for this if it was some sort of trellis? $200? At a stretch?
Think again. How about $1695?
Good or what?
Right.
I don't care how people get their kicks, but this is looking more and more profitable if you ask me. Why the hell am I making kitchens and occasional tables when I could be making this:
Yep. You're not wrong. It's three (count 'em: 3) planks, sanded and painted. Three.
How much?
$399. Not bad, huh?
Now, there are some fools who deserve everything they get, and perhaps the severe pricing regime is part of the kick, but to my way of thinking, this gobshite should get no mercy: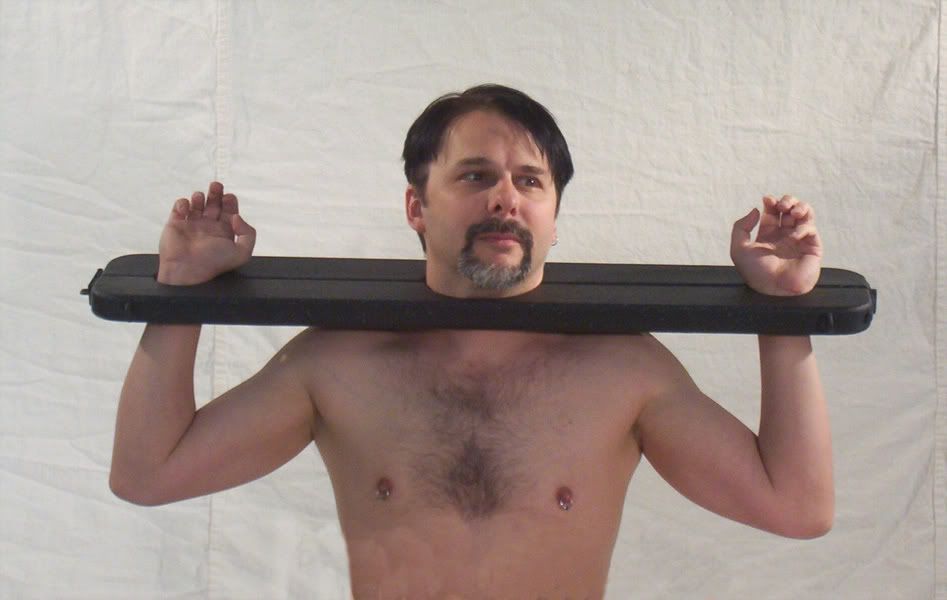 What does he look like? Isn't he afraid his mother might see him? For fucksake! $125.
And as for this amadán, well words fail me sometimes.
No. Honest. Really, they do, though not often.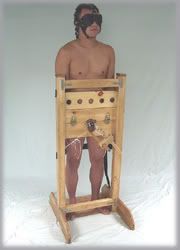 $450 to get his nuts crushed and look like a total … well … knob. Ah, look, we're all going to get rich out of these eejits. Just stick with me. I knew it would be a good idea in the end to buy all those power-tools.
_________________________________