The Norwegian emigrant ship, Hannah Parr, bound for Quebec, put into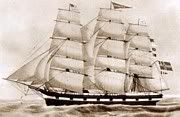 Limerick port in May, 1868, having lost a foremast. About 400 passengers were aboard the ship, and these people found themselves having to depend on the citizens of Limerick for hospitality while repairs were carried out.
According to the Limerick Chronicle on the 9th May, 1868:
No accident occurred to crew or passengers, all on board are in excellent health, and as fine a looking lot as one could see. Every provision was made for their comfort by the Norwegian consul, Mr M R Ryan, who has visited them, and seen after their wants. The vessel is placed in consignment of Messrs Ryan, Brothers, & Co., who are getting repairs completed energetically.
By May 21st, repairs were still dragging on and the Norwegians were becoming depressed, but luckily, Limerick had the answer:
Inmates of the female Blind Asylum attended as a choir to lead in the singing of the hymns, and they were accompanied on a beautiful harmonium by one of the number, who is proficient in music. The harmonium was kindly and gratuitously lent for the occasion by Mr. P. Corbett, of George-street, who with characteristic generosity, declined payment from the committee.
In a letter to the Editor, Mr James Walsh expressed concern for the emigrants:
It has been ascertained that a considerable number of the Norwegian emigrants at present among us furnish an occasion for the exercise of the Christian liberality of the people of Limerick. There are, in fact, about 40 or 50 of very slender means among them,
Luckily the good people of the city were at hand to help with subscriptions:-
G. M. Fitzgerald, £1; Rev. J. Gabbett, Kilmallock, £1; John M'Kern, £1; Henry Maunsell, £1; General Maunsell, £1; Lord Bishop of Limerick, £1; Sir W. Barrington, £1; Cannock, Tait, & Co. £1; William Power, £1; Edward Cruise, £1; Miss Peacock, 10s; Miss Lucy Peacock, 10s; Captain Peacock, 10s; J.C. Delmege, 10s; John Vanderkiste, 10s; Major Vandeleur, 10s; Hon. R. O'Brien, £1; Rev. F. Meredyth, 10s; Edward Lloyd, 10s; Limerick Warehouse Company, £1; Dr. R. Gelston 10s; J. A. Ievers, 10s; James M'Mahon, 10s; Rev. R. J. Gabbett, £1; James Maxwell Weir, £1; William Hosford, 10s.
Sadly, four children died from sickness and were buried at the Bishop's Palace on King's Island but eventually, on the 9th June, the Hannah Parr set sail for Canada.
On this morning about eight o'clock this emigrant ship left the dock, and was towed down the river amid the farewell cheers of the crowd of citizens who thronged the pier, that were warmly responded to by the crew and passengers, and which were continued on either side till the vessel had passed beyond Barrington's Quay.
The passengers sent this note to the newspaper:
Is about short time ready for again to try the Atlantic Ocean, and we will pray to God that the ocean will meet us with more friendship than that time we last were its guests.

Before we, meanwhile, leave this city and its exceedingly friendly population, it is our wish to express our hearty thanks for all the kindness the ladyes and gentlemen of Limerick have shown us.

With sorry hearts we came as shipwrecked to the coast of Ireland; but we came up the Shannon and saw the beautiful land on both sides, and we then felt that the good God had not yet left us.

In this pretty land we also met people who took great deal in our sorry–who strained to give all the animation as possible–who, by gifts of Christian books and speaking friendly to us, laboured to open our hearts for the grace of God–who took us in their houses and treated us with friendship and honour; all this have affected our hearts, and we shall never forget it.

THE NORWEGIAN EMIGRANTS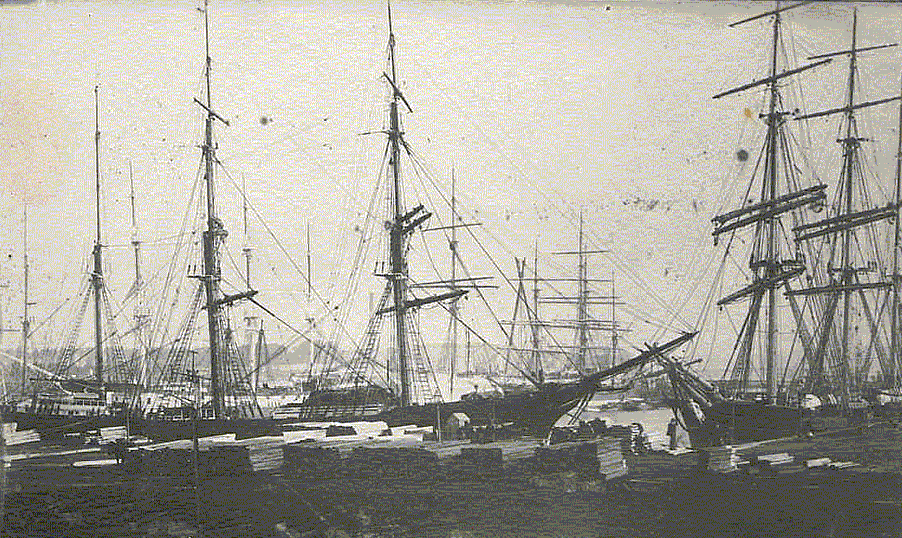 You'll be glad to know that the ship arrived safely at Grosse-Île, Quebec on the 27th July. Ironically, Grosse Îlehas a major place in Irish history and was, not long before, a place of misery and death for thousands of people fleeing the Great Famine. Many of the doomed Irish emigrants would have departed Limerick Docks from exactly the same location as the Hannah Parr.
The Norwegian Ambassador, Truls Hanevold, will be in Limerick on Friday 2nd and Saturday 3rd May to commemorate the event. Mr Hanevold will lay a wreath at King's Island where the children are buried and will later attend a civic reception on behalf of the Norwegian government.
The organisers hope that next year Norway will send a tall-ship to Limerick port in commemoration of their links with the city.
_______________
30th April 2008 UPDATE: Press release
RTÉ-Lyric FM airs emigration documentary
Lyric FM will broadcast an audio documentary about emigrants befriended by Limerick citizens 140 years ago. The program will be heard as part of "Artszone" with Aedin Gormley between 7:00 and 8:00 Friday, May 2nd.
The broadcast comes early in the long May 2nd weekend and the inaugural Hannah Parr Festival. The Norwegian Ambassador makes several appearances, and there are events to promote business, social, and cultural links between Norway and Ireland.
Norwegian emigrants in 1868 were nearly drowned in a storm that dismasted their ship and made tangles of the sails and rigging. Their ship, the Hannah Parr, made its way to Limerick for repairs that took 6 weeks. During that time people of Limerick reached out to hearten and assist the passengers, spanning differences in language, culture, religion, and life goals.
Voyage accounts and newspaper stories documented the event, augmented by oral history passed through generations of Limerick people down to present day. A company of 3, working from their own countries. an American, a Norwegian, and an Irish woman, have collaborated to produce a 20-minute audio documentary called "Great Need Was Our Only Strength." Its text draws on contemporaneous accounts of witnesses and is voiced in Irish, Norwegian, and American accents.
Actors are Niamh Bowen, Limerick theatre practitioner, Bjorn Espen Hansen, freelance Norwegian media producer, and Clair Haugen, retired Minnesota academic and theatre director. Both men are descendants of emigrant families that sailed on the Hannah Parr, and in 2006 Bowen wrote and directed a play for the Island Theatre Company based on the Hannah Parr experience.
The documentary starts with the storm-interrupted voyage from Norway and ends when the journey to America resumes. While the Norwegians were in Limerick they buried 3 of their children, but children also were born. Through the kindness of many Limerick people, the emigrants were treated to excursions and parties, tasted porter, witnessed the ascent of a French balloonist, and were given religious tracts
________________________________
Links:
The long crossing of the Hannah Parr
Immigrant Ships Transcribers Guild
_______________
Here: Limerick Photos