Leonard Cohen In Dublin – Concert Review
UPDATE
Leonard Cohen Dublin 2009 report HERE

———————————————-
Dublin 14th June 2008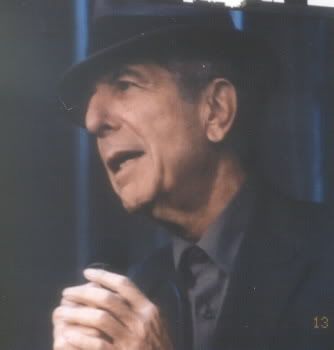 What can I tell you?
What can I tell you?
What can I possibly say?
Sublime.  The sweetest voice we ever heard whispered to our soul.
Lenny is kind, courteous and funny. Good evening friends, shall we start it?
We cheer and clap and hoot.
I'm seventy-three now, he says. The last time I played in Dublin, I was sixty.  Just a kid with a crazy dream.
He wears a snappy fedora which he removes in thanks after each song, and holds to his breast as he bows.  He's grateful, he tells us, for the warm welcome, and we believe him.
He calls us, my friends, and I think he means it.
His voice has become a rich, smooth bass-baritone, and he uses it like another instrument of the small orchestra he has about him.  His band are, as always, superb, and he's accompanied by his friend and collaborator, Sharon Robinson, and by the Webb sisters: an impossibly perfect singing duo who spend the entire evening weaving diaphanous close harmonies around Leonard's heartfelt growl.
When the girls open with the familiar syncopated lilting start of Dance Me,  from his mid-period masterpiece Various Positions, we know this is going to be a journey through Cohen's huge labyrinth of poetic songmaking.  This is going to be no self-indulgent old man's last monument to his own decline.  This is going to be Cohen celebrating a lifetime of creating.
Dance me to your beauty with a burning violin
Dance me through the panic 'til I'm gathered safely in
Lift me like an olive branch and be my homeward dove
Dance me to the end of love
The crowd sways with his melody and sings along with his poetry.  We're already under his spell and he hasn't been up there five minutes.  As the light slowly fails, he continues with The Future.
When they said REPENT REPENT
I wondered what they meant
When they said REPENT REPENT
I wondered what they meant
And then, before we can draw breath, There Ain't No Cure For Love, belted out by the three girls, as Rafael Gayol pounds the drums beneath Roscoe Beck's respectful double bass rhythm while Dino Soldo's sax cuts through the evening air like a razor blade.
Rocket ships are climbin' through the sky,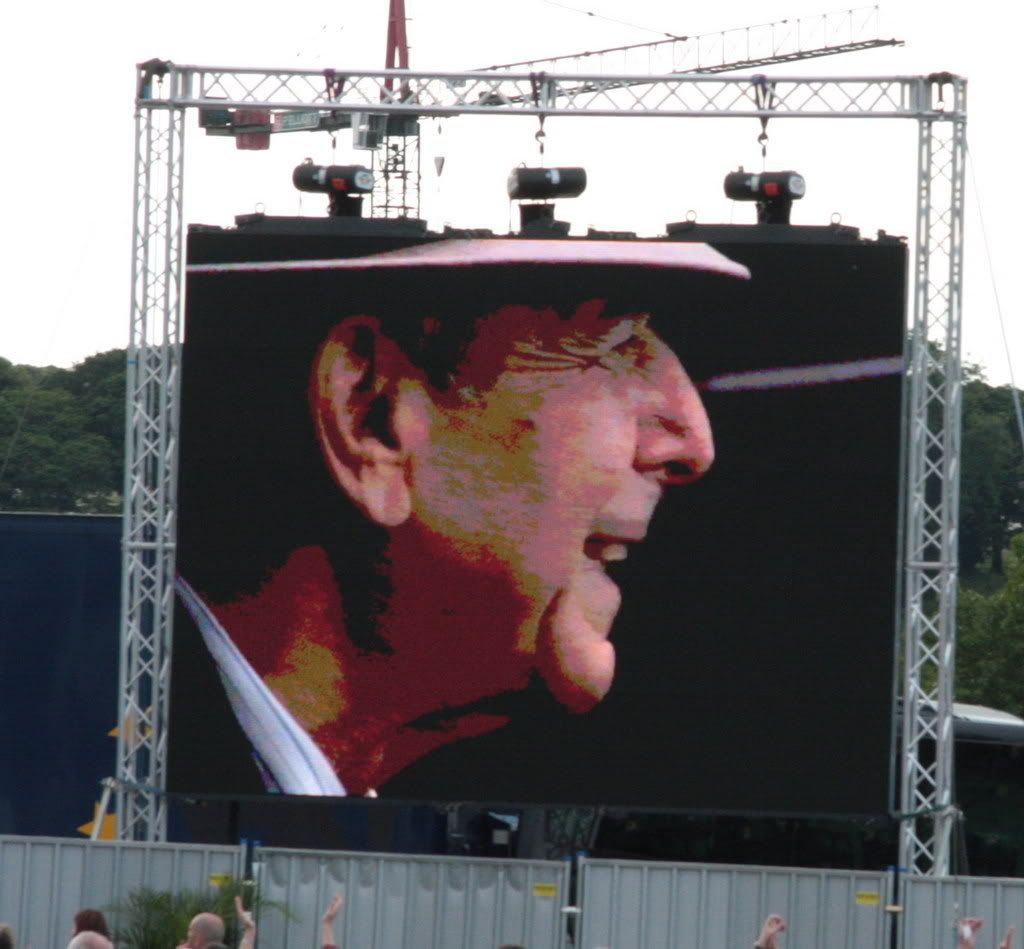 Holy books are open wide,
Doctors workin' day and night
But they'll never ever find…
He's on a roll and before you know it he's crooning Bird On The Wire, and you're singing along and you don't even realise it. He follows that with Everybody Knows, his searing Eighties anthem from the heart of the AIDS terror:
there's gonna be a meter on your bed that will disclose what everybody knows.
He ends the first half of his set with In My Secret Life:
Hold on, hold on, my brother.
My sister, hold on tight.
I finally got my orders …
… and the Webb sisters' heartbreaking twin voices catch the mood, raising our hearts into the dying sunset.
…  marching through the morning,
Marching through the night,
Moving cross the borders
Of My Secret Life …
As we recover, here comes Who By Fire, Cohen's marvellous adaptation of an ancient Jewish prayer, and he closes on Heart with No Companion.
… I sing this for the captain
Whose ship has not been built
For the mother in confusion
Her cradle still unfilled …
Friends, he says,  I am truly privileged by the warmth of your welcome.
Privileged? I'm grateful that I could be here, on a night of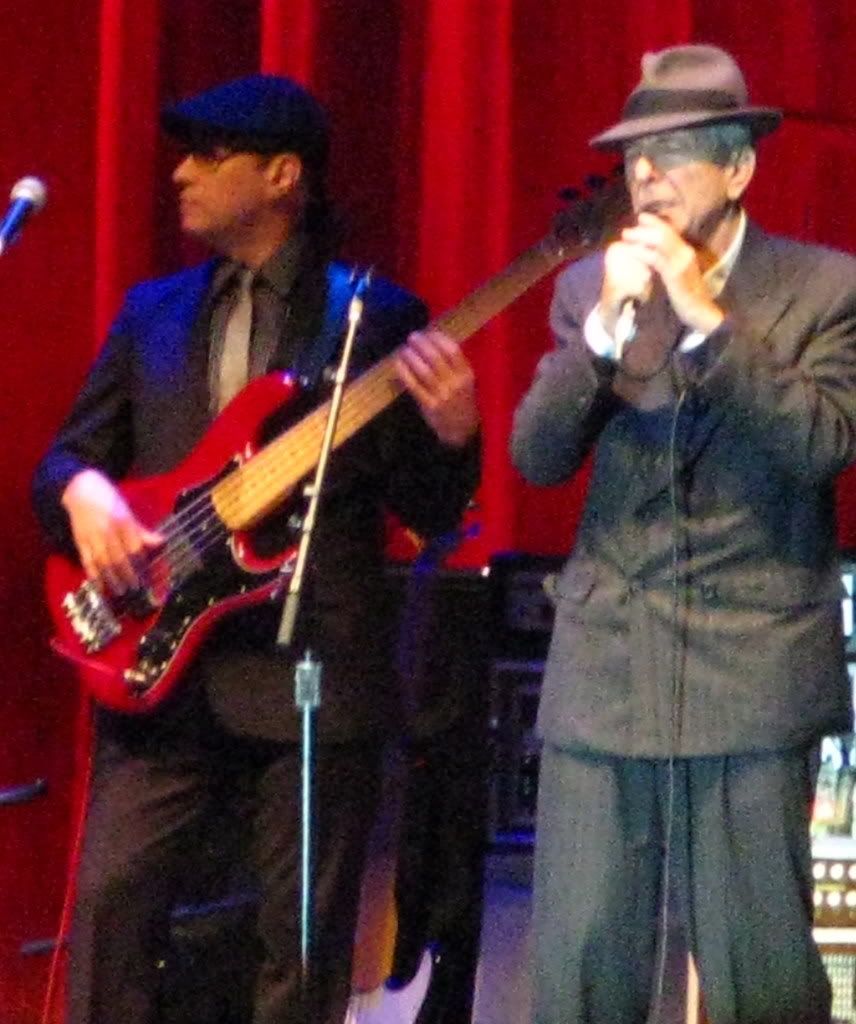 enchantment, in the presence of this humble giant.
Lenny, I want to tell him, I came to you as a pilgrim when you played here twenty years ago, and you're an even bigger man now than you were then.
I read that somebody on Friday night shouted Don't leave it another twenty years, and Lenny replied, I don't have twenty years.  He doesn't appear to mind.  Lenny seems to be at peace, happy and content.
He takes a break for maybe twenty minutes, and then he's back, bowing and smiling, and he's straight into Anthem:
Ring the bells that still can ring
Forget your perfect offering
There is a crack, a crack in everything
That's how the light gets in.
He follows up with Tower of Song:
My friends are gone and my hair is grey,
I ache in the places where I used to play
Amazingly, there are people who think this man lacks humour.
Then he pulls out the inevitable crowd-pleaser for the oldies: Suzanne.  Hard to blame him, I suppose.  There are bills to be paid.  Some people here don't seem to realise he recorded anything after 1967, and when later he sings I fought against the bottle, but I had to do it drunk, large chunks of the crowd laugh like they never heard such a funny joke.  Did you hear that?  Did you hear what he said? These are the Cardigan People, the ones walking around with plates of sushi.  I banish them from my thoughts.
The set continues with Gypsy Wife from Recent Songs, an album I never really warmed to, though this is a fine version of the song.  After that, it's Boogie Street, from Ten New Songs, released when he left the Zen monastery and discovered he'd been ripped off and all his money was gone.  What would flatten you and me fazes Lenny not the slightest.  He takes it in true Zen style, as an opportunity, and when I look up at him now, radiant, smiling and happy, perhaps that's just what it was.
A sip of wine, a cigarette,
And then it's time to go.
I tidied up the kitchenette;
I tuned the old banjo.
I'm wanted at the traffic-jam.
They're saving me a seat.
I'm what I am, and what I am,
Is back on Boogie Street.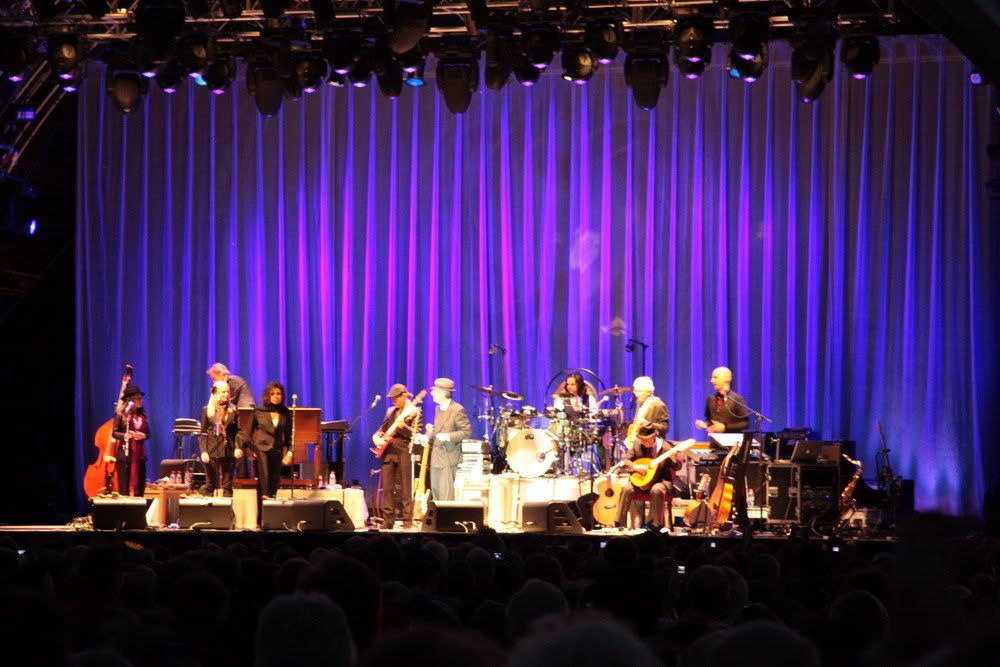 I'm one of those people who don't like Jeff Buckley's version of Hallelujah, and so I'm a bit disappointed when that's what he sings, but hey, it's his song, and he can do whatever he wants with it.
I still sing along.
After all, what did this beauty in the moonlight do?
Yup.  It overthrew ya.
Hallelujah, Lenny!
He's only getting into his stride.  Democracy is coming to the USA, Leonard growls, and everybody cheers.
… from the homicidal bitchin'
that goes down in every kitchen
to determine who will serve and who will eat …
Then he's on to I'm Your Man
He begins to sing,
If you want a lover
I'll do anything you ask me to
And if you want another kind of love
I'll wear a mask for you
If you want a partner
Take my hand
Or if you want to strike
me down in anger
Here I stand
I'm your man
and 6,000 women swoon.
But when he says If you want a doctor, I'll examine every precious inch of you, 6000 women pass clean away and have to be revived with smelling salts.
Lenny is 73, damn him!  It's just not right.
Without giving them a chance to recover, he begins A Thousand Kisses Deep as a spoken poem, and gradually lets the Webb sisters elaborate on his deep, rumbling, bell-clear voice.
The ponies run, the girls are young,
The odds are there to beat.
You win a while, and then it's done
Your little winning streak.
Before we know it, with a bow and a sweep of the fedora, he's gone.  Thank you my friends.  Thank you so much.
He's gone.
Lenny?  Lenny, come back!
We trust Lenny won't let us down, and our faith is well placed.  Here he comes, with a bow,and a smile.
You're far too kind, my friends.  Too kind.
Now that they're all in the mood, the time is opportune for Take This Waltz, and as always, Lenny makes appropriate obeisance to Federico Garcia Lorca for writing the original lyrics in Spanish.
The crowd are dancing.  Some people are crying.  People are cheering.  People are hugging each other.
There's a concert hall in Vienna
Where your mouth had a thousand reviews
There's a bar where the boys have stopped talking
They've been sentenced to death by the blues
Ah, but who is it climbs to your picture
With a garland of freshly cut tears?
Ay, Ay, Ay, Ay
Take this waltz, take this waltz
Take this waltz it's been dying for years
Everybody's dancing.
Perhaps he follows that with Marianne, but I'm not absolutely certain. It's been a long show and I'm not a young man any more.  I'm also not entirely sober, which doesn't help, but at least I'm not eating sushi.  Then the band powers into a rocking version of First We Take Manhattan. A few years back, Dave Fanning asked him what would happen when he took Berlin, and Leonard, in his usual laconic way, took a puff of his cigarette before answering. I'm not at liberty to disclose the full details, but I can tell you it will involve a lot of new parking meters.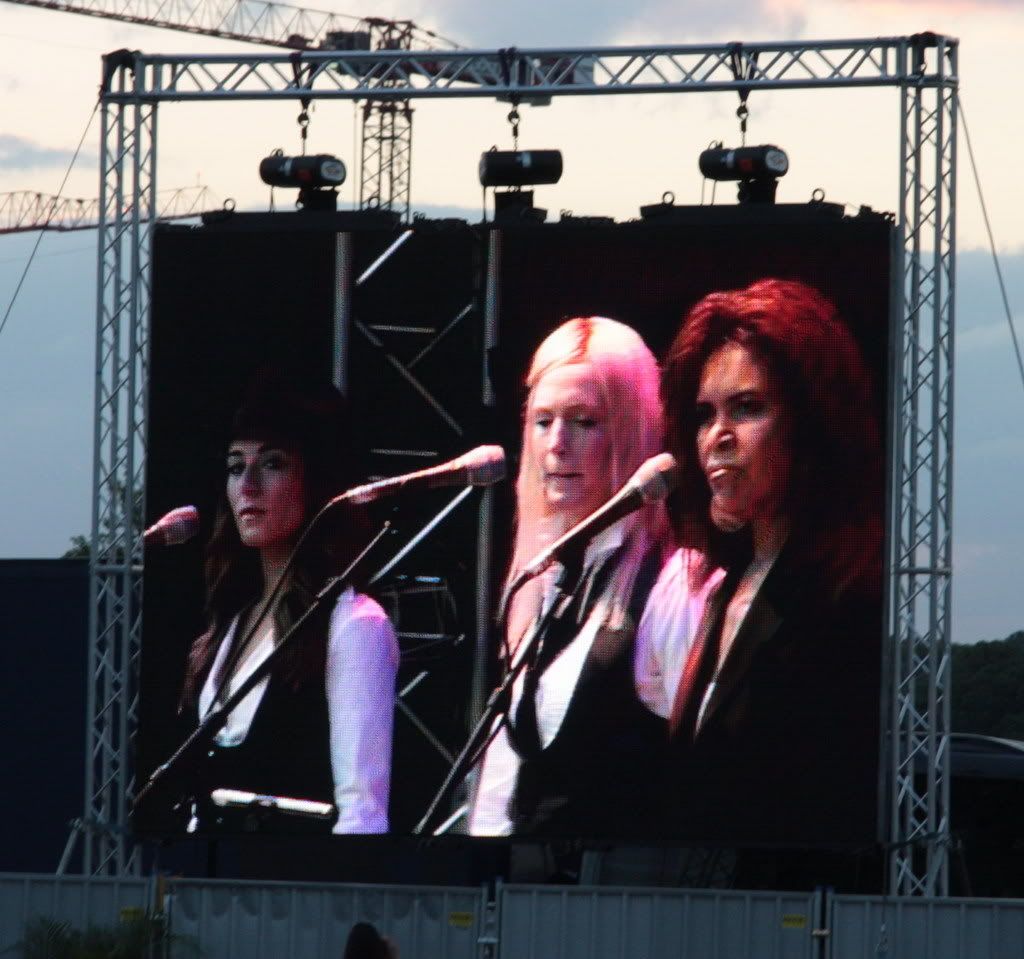 As the crowd dance and cheer, he's gone again, doffing his fedora, but he's back in a second, and now he's doing That Don't Make it Junk.
How come you called me here tonight?
How come you bother with my heart at all?
You raise me up in grace, then you put me in a place,
Where I must fall.
The three women's voices soar above the crowd, into the darkened sky, as the cello and the guitars curl themselves around Cohen's rich and smoky croon.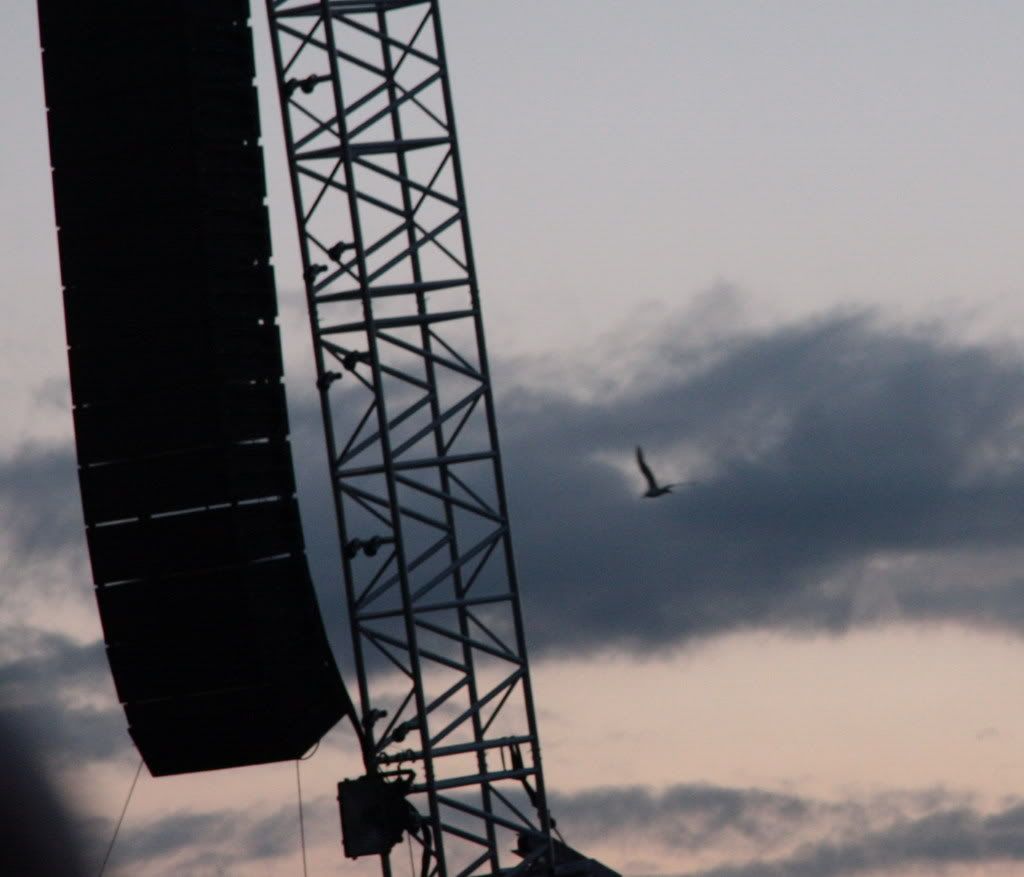 A lone seagull wheels above him in the darkening sky as Lenny drops the emotional gear another level with a slow and bluesy rendition of If It Be Your Will. Reciting the first few lines, he again invites the Webb sisters to unfold it and the girls' intertwined voices fly towards a Heaven of Leonard's creation.
Let the rivers fill
Let the hills rejoice
Let your mercy spill
On all these burning hearts in hell
If it be your will
To make us well
Here it is on video:
Dear God!  Nobody is bulletproof.  The whole crowd are transfixed and filled with adoration.
How is he going to wrap it up?  Of course.  What else?
Closing Time.
Ah we're drinking and we're dancing
and the band is really happening
and the Johnny Walker wisdom running high
And they are.  They're dancing and drinking, and the band is pumping it out.
… she's a hundred but she's wearing something tight …
That immortal line.
They're dancing again.
… and the whole damn place goes crazy twice,
once for the Devil and once for Christ,
but the boss don't like these dizzy heights.
We're busted in the blinding light of Closing Time …
The band all stand up.  They wish us out with an a capella version of I Tried To Leave You, and we're standing there, bereft.
Without hope.
Is this the last we'll see of Lenny?
The old maestro has one final trick up his sleeve.
You had a vote on Europe during the week.
The crowd cheers.
Congratulations to you Ireland.  Still bewildering the world.
Lenny's moving towards the wings, slowly disappearing in the folds of the curtains like an old showboat slipping beneath the waves.  With another smile, another bow and a wave of the fedora, he's gone for good.
Goodnight my friends, goodnight.
______________________________
Video
here are some video clips from Dublin posted on youtube.
I know the quality is a bit patchy, but it might give you a feeling for the night.
______________________________
The Band
Roscoe Beck Musical Director, Bass, background Vocals
Neil Larsen Keyboard, accordion, brass instruments
Bob Metzger Guitar, steel guitar & vocal
Javier Mas Bandurria, laud, archilaud and 12 string guitar
Dino Soldo Keyboard, saxophone, wind instruments &vocal
Sharon Robinson Vocals
______________________________
Also on Bock the Robber
______________________________
Elsewhere
Karl Smyth – – Pics