The morning was promising enough, so I headed into the Market.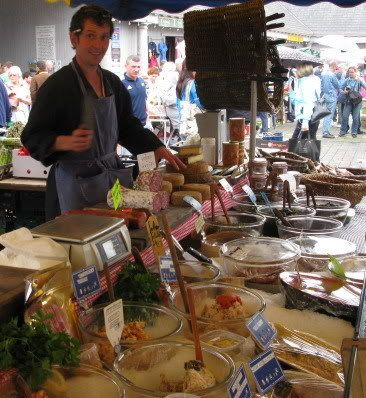 I couldn't pass this French fellow's stall without picking up a slice of his home-made paté  and some sea-spaghetti pickled in vinegar.  Later, I'll toss it into a stir-fry  with chicken and see how it turns out.  He told me it would be delicious, and I hope for his sake that he was telling the truth.
In fairness to him, he'll always offer you a little morsel on the end of a knife, so you can have a nibble.
It's your decision.  Buy it or don't.  I bought, and later I'll cook.  I also went to the fish stall, where the fish is so fresh it doesn't know it's been caught.  They bring it straight from the quayside in Kinsale at the break of dawn and customers in Limerick are already waiting for them when they arrive at eight
in the morning.  I'll probably make a fish pie with white wine, mustard and wild fennel, which has lately started grow in the garden spontaneously.  I don't know how that happened, but there it is.
I forgot to pick up some leeks, and I'll have to go out again, which is pissing me off, because the house is in bits at the moment.
I decided to do up the bathroom and, as usual with me, I couldn't just slap on a bit of paint.  No.  I had to build shelves and a box for towels, and then I did the floor, and tore out the window-board and made a new pine one, so now there's debris everywhere.
What's worse, I have to go into town tonight for yet another party, in memory of Jock, heard here reading a Bock/Wrinkly Paddy fairytale.  I told you all about that here.
I'm up against the clock, yet still I sit here blathering at you.
Why is that?  Why can't I shut up and get on with things?
Of course, I couldn't pass my favourite plant stall either, and had to pick up a couple of perennials which I'll now have to find a corner for, but I couldn't leave them behind me.  Could you?
| | |
| --- | --- |
| | You just couldn't leave them sitting there .  It would be a crime. |
The garden is starting to look well after all these visits to the market, especially the rockery that I built to replace that awful stone wall that the Rockhopper
demolished with a digger last year, nearly killing me in the process.  I planted a lot of little things that I hoped would spread in among the cracks and colonise it instead of looking like some gobshite planted them, and it's working  out fairly well.
After all, this is only their first year, so the whole thing should knit together nicely, once it has a chance to establish itself.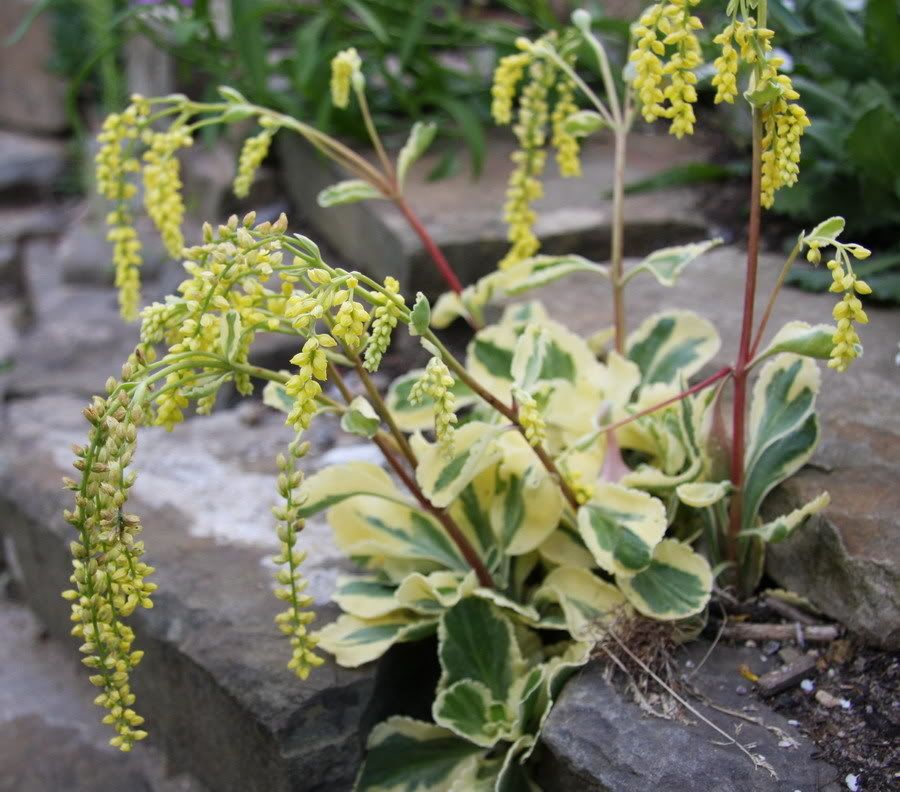 Yeah.  It's becoming a nice place to relax, and shaping up well for a big party that I'm planning for early September.  I'll tell you more about that later, but it should be an excellent bash.  Some of my fellow wafflers will be there, so you might find yourself reading about it some time.  Who knows?
Of course, this being Ireland, the morning couldn't last without rain, and I had to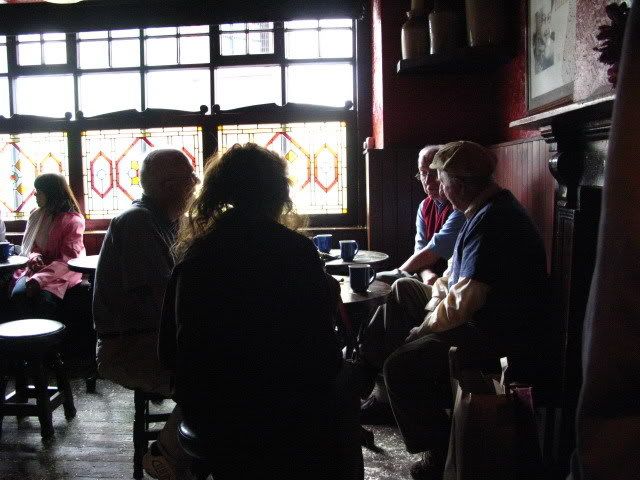 scamper for cover, so I ducked into Nancy's for a coffee and a read of the paper.  My morning is never complete without doing the Sudoku, and I always start with the hardest one.  If I can finish that, it gives me the feeling that life is getting easier.  And of course, in Nancy's you're never stuck for someone to chat with, even if it's all bullshit.
This morning, they were discussing all the old men in Limerick who fought in the British Army during WW1.  Joe remarked that the area where he grew up, the Island Field, was full of people who'd been gassed at the Somme or Paschendaele, and in fact, my own grandfather was one of those who  signed up.  I'm told he  was never fully sane after he came back from the slaughter of the Dardanelles, and I must write about this some time.
I must also tell you about Wrinkly Paddy's Uncle Georgie, who shoved a Japanese
guard head first into a live furnace when he was a POW slave on the Burma railway.  Paddy inherited his coat, a very smart fawn Crombie, and if we were ever having a party, he used to put the coat away upstairs.  Uncle Georgie hated bad language, and Paddy made it a point of honour never to swear in front of the coat.
What is it about Irish people and rain?  Why are we surprised when it rains?  Haven't we been living on this island for thousands of years, and wouldn't you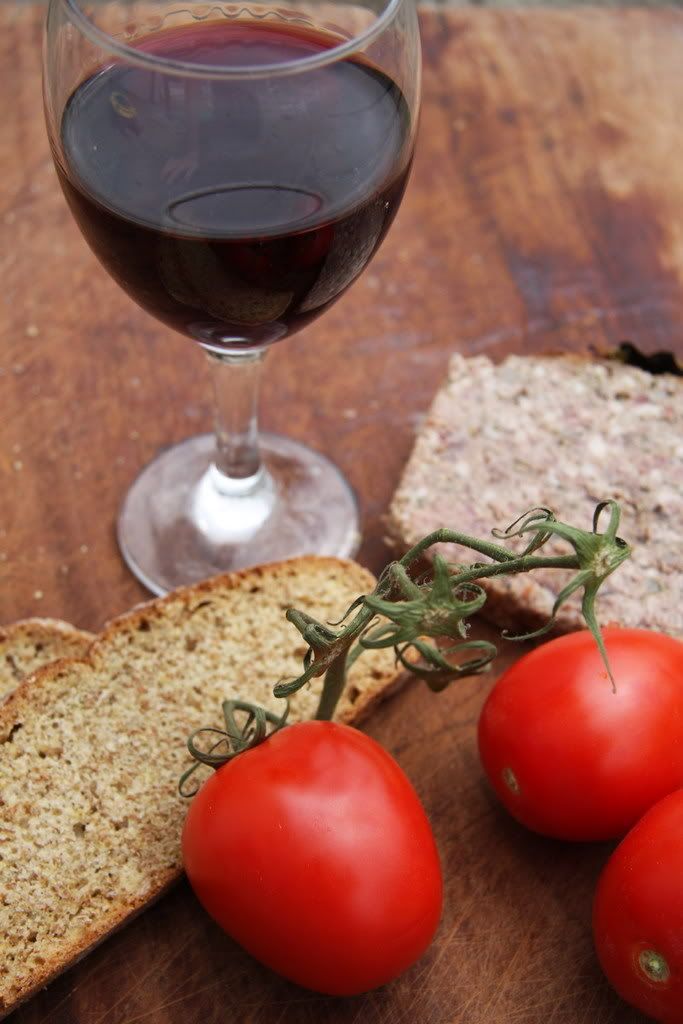 think we'd have adapted by now?  Why do we get up in the morning and say, like I do, Jesus Christ!  Fuck!  I don't believe it.  It's fuckin raining!
I mean, are there Eskimos who say things like !'m fucking freezing.  I hate this fucking snow.  I'm moving to Jamaica.
Somehow, you know, I doubt it.
Now.  I'm going away.  There's a bathroom to build, and later there's partying to be done.  If I get the house in a reasonable state, I might have some of my paté with brown bread and a glass of wine before I go out.  Who knows?
________________________________________________
UPDATE
The paté was delicious.