Here we go again, kids.  It's Heineken Cup time, and this year the first game is in the newly-refurbished Thomond park, right here in Limerick.  We're welcoming Montauban to our home, and though we wish them well, we'll be hoping they go home disappointed.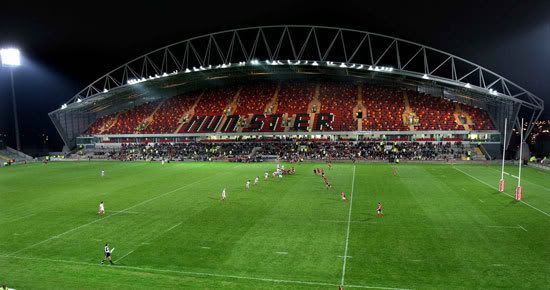 Of course, with my usual bumbling incompetence, I made a complete shit of organising tickets for last night's game against Glasgow.  Don't know how it happened.  I just presumed, somehow, that tickets would materialise for the Bullet and myself, as they normally do, but no.  They didn't.  I had to watch it in the fucking pub.
What's more, my shame was doubled when I learned later that we could have walked out to Thomond Park and bought the goddam tickets at the gate.  Gah!
Looking on the bright side, isn't the new stadium great?  Isn't it just terrific, as you'd expect after spending €40 million on it?  It's amazing what you can do with €40 million when you aren't a government or an investment banker.  It's astounding how much you can actually achieve with that kind of money when you know what you're doing.  You can produce a real product, like this magnificent stadium, instead of the bullshit they call "products" in the banking and insurance "industries".
Oh wait.  Sorry.  I was supposed to be talking about rugby, wasn't I?  Not those thieving low-lifes our government has just bailed out using your good name and mine. (Well, your good name anyway).
So.  Rugby.
I haven't got tickets yet, but I feel confident Bullet will be joining me on the terraces of the reborn Thomond Park to cheer on our boys as they do battle with the Pyrenean pretenders, and I have to say, going on appearances so far, Munster are looking very good.
Tony McGahan is turning out to be just as astute a coach as Declan Kidney was.  Perhaps even better, or luckier.  After all, what coach anywhere in the world, including new Zealand, wouldn't give his left testicle to have a young player like Keith Earls burst into the squad with the sort of verve, panache, élan and flair we remember from the likes of Simon Geoghegan?  (Also possibly panache, flamboyance, joie de vivre, elegance, eclat, savoir faire and lots more French things).  I'm telling you now, this young guy is going to be one of the best in the world when he slots into his natural position at centre in a year or two.  But so far, on the wing and at full-back, he's electrified every game he played in.  And he's a home grown Limerick lad.
Apart from Keith, I have to say the team is looking great.  O Gara has never been better.  Paul O Connell is on top of his game.  We have the incomparable Dougie Howlett fully committed to Munster and enjoying every second of it, unlike his miserable Kiwi predecessor, Chris Cullen, who was here for a paid holiday.  We have the Bull, still at his considerable peak despite endless rumours of retirement.  Mafi and Tipoki are simply terrifying, and enjoying it.  Dowling is on springs.  Stringer is back to his best and now we have Tomás O Leary as well: an embarrassment of riches.  Even Paul Warwick has sorted out his kicking problems, providing credible cover for O Gara if necessary.
Fitness and commitment levels are at the top of the scale, and the boys are playing the kind of adventurous, creative football that left Leinster looking like an inter-pub team last weekend.
All in all, it looks positive.
I don't want to tempt fate, but if I were a betting man, which I'm not, I'd put a sovereign or two on Munster doing the double this year.  I'm not saying it's a certainty they'll win either competition, but what I am saying is this: they've never been better prepared, nor have they had as much talent and confidence in themselves.
It looks like we're facing into an exciting season, and I'll try to be there whenever I can manage it.  This time, though, if we make it to the final, I'm not travelling abroad.  I went to both winning finals with the Bullet, and this time, if we make it, I'd like to be part of the astonishing Limerick experience.
We can only hope.
_________________
Update.
Right.  Here we go.  Word filters through that Bock and Bullet have tickets for the game.  I'll bring you more information as it comes in,  but you can take it that we'll have people in the ground.  I'll bring you pictures.