It doesn't matter that the new Thomond Park is a pleasure to be in or that the home of Munster rugby has lost none of its hostility to visiting teams. It doesn't matter if Munster forgot what their mission is. We'll have to do better than this if we want to keep the European Cup. A lot better.
Munster were careless, indisciplined and lacked the cohesiveness that last year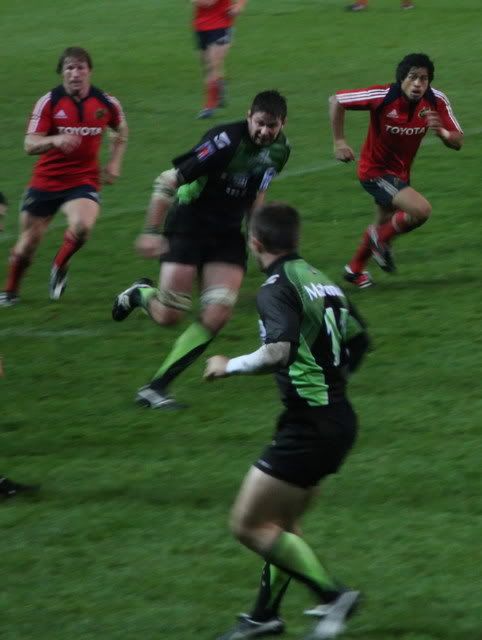 saw them safely through possibly the toughest group in the history of the competition. They also underestimated the calibre of the visitors, who turned out to be a strong, determined and skilful team and who deserved to take home their bonus point. The Munster crowd applauded Montauban off the pitch at the end of the game, a fair recognition of their performance.
Munster tried to play an open, expansive, passing game. Everything started from the backs as Munster moved forward in sweeping formations, interchanging, swapping and interweaving their running. It was beautiful to watch, and it nearly cost us the result, because of handling errors, knock-ons and wrong calls. We forgot the fundamental maxim: first, win the game.
Last night, Munster got out of jail with a last-minute penalty, and we all know it. There's no point quibbling about the professional foul on Stringer that should have led to a Montauban player being sin-binned, nor is there any point complaining that they got a try from a knock-on. The fact is, we should have been so far ahead the only issue was whether we'd get our fourth try or not. Instead, we ended up scrambling to hold onto possession at 16-14 and gave away a handy penalty to put Montauban in the lead with two minutes left on the clock. That should have been it, and if it hadn't been for a last-minute penalty, we'd have been walking away from the new Thomond Park, shaking our heads and wondering what hit us.
We were let off, and I hope we learn from it or we're cooked. Last night, we didn't look like the reigning champions of Europe.
Bruff RFC have some fine PICS on their site and here are a few more of my own:.