Munster 16 — All Blacks 18
Is Munster the best team in the world to follow?
Well, let me put it to you this way: do you know of another team where every man will put his body on the line rather than disappoint the supporters?
Where every man will fight to the death for his team-mates?
And as Mick Galwey once put it, where every last supporter in the ground is ready to pull on the Munster shirt and line out alongside them if needed?
(Pic by C'est la Craic)
This is a phenomenon you won't see often. Last night was an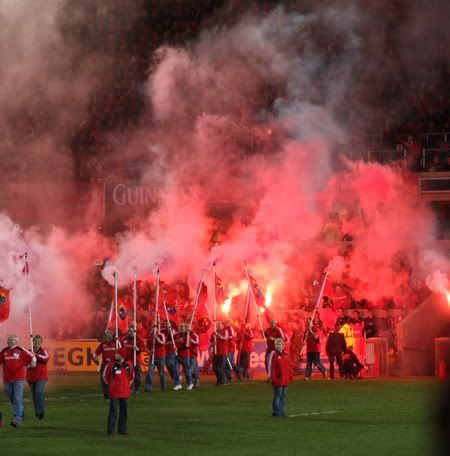 experience we should all savour, because it revealed so much of the honest human spirit, and even though it ended with a victory for the All Blacks, it was by a thin margin and turned on the bounce of a ball.
The New Zealand players were rattled by a Munster team running on raw pride and last night's game was a contest of equals. I looked at Peter Stringer last night after the final whistle blew, and I saw a man who never for one second feared the greatest team in the world. I saw a man fit to scream with frustration. I saw Doug Howlett and Mick O Driscoll and Barry Murphy and all the rest of them, utterly unfazed by the name or the reputation of our visitors, and I saw a bunch of players emotionally shattered that they had let the prize slip away at the last second.

But I also saw the Munster crowd stand and applaud them and I heard the crowd roar defiance and pride as the players limped off, bruised and battered and holding back the tears.
If it's about passion, it's also about respect, as some ill-mannered visitors learn in this little clip:
Goddamit, why am I asking if this is the best team in the world? Why would I ask a question like that?
Of course it is. Where else would you get it?
I read a comment on one of the boards that summed it all up. In 1978, the supporters walked away from Thomond Park amazed that Munster won. In 2008 they walked away amazed that Munster lost.
That says it for me.
I was proud of our team last night, and I was proud of our supporters. I was proud of our town and our stadium and our spirit.
Most of all, I was proud of people like my son, who wiped away tears, not of disappointment, but of rage that we didn't dispose of the mighty All Blacks.
Two Hakas:
_________________
__________________
New Zealand:
____________________________________