Christmas Message From Bock
Right, ye bastards. The time has come again where I have to wish all ye bastards a happy fucking Christmas and a peaceful new year.
For fucksake! The economy has come off the rails and the country is in bits, with worse ahead. The world's banking system has collapsed and all our houses are worthless. You can buy a Rolls-Royce for fourpence.
Starvation, pestilence, plagues of frogs …
But anyway, here we go.
Let me wish all my loyal readers a happy Christmas and a prosperous New Year.
Hmmm. Prosperous? Somehow I think not. Preposterous, maybe.
A Happy Christmas and a Preposterous New year.
No. I'm not happy with "Happy". How could anyone be happy these days?
Oh, and may the peace of the Lord be with you now and for all time, unless you happen to be a Muslim getting the shit bombed out of you by the Coalition of the Willing as part of the War on Terror.
The War on Terror. I remember once reading a great line about that: fighting for peace is like fucking for chastity. Great.
OK. Back to the benediction.
I'd like to — no I wouldn't — I have no option but to wish both my readers a less anxious Christmas and a preposterous New Year. May the peace of the Lord be with you now and for all time, this offer is for one week only, terms and conditions apply, not all applicants will necessarily be approved.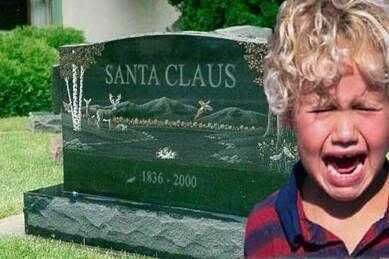 Now, as to myself, you know I saw this coming and set up a nice little travel business last year, and I have to admit it's doing quite well. I expect it to really take off next year when nobody has any money left.
The idea is simple, but parents will pay me handsomely for the service. Instead of flying planeloads of children to Lappland to visit Santa's toy factory, I'm bussing them to see Santa's
grave and also the place where he was murdered and crucified by the Russians.
I have teams of trained counsellors at hand, and when the children start crying, the counsellors bellow into megaphones:
See? He's dead, ya little fucker. Dead, d'you hear? No more presents for you. Ha ha ha haaaaaaaa!!!!
So there you have it. The new year might be miserable for everyone else, but Bock is laughing.
Mwooo-hahahahahahahaha!!