Munster v Clermont Auvergne
Big day today. The crucial match with Clermont kicks off at 3:30. We have our tickets and already I notice there's a trickle of people into town.
A bunch of Clermont supporters turned up last night in my pub of choice, and I suspect they were a little surprised to hear the piano player striking up La Marseillaise. I imagine they haven't often seen customers dancing on tables either.
No predictions about today. It's going to be a tough one and this crowd mean business. I'm saying nothing about the result, but I'm here in my red jersey and I'm about to leave the house, meet up with the rest of them and hand out the four tickets I have in my wallet.
I imagine we might even have a warming drop before we face the rigours of Thomond Park.
Back later.
_______________________________________
UPDATE
Munster 23 — Clermont Auvergne 13
Jesus Christ! Can't this Munster team do anything straight? I'm not a young man anymore, and my heart isn't able for this stress. I'm not able for it and I might easily expire from a conniption brought on by the kind of last-minute rugby our team play.
What was that?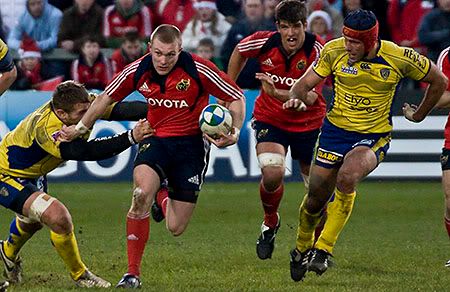 Let me offer you my own personal opinion about Munster's performance, if I may. We were shite. We were dreadful. We got out of jail in the last ten minutes when we should have been stuffed.
Come on, for fucksake. For most of the game we were playing against a team who were reduced to fourteen men, and yet they were the ones who found all the openings and exploited all the weaknesses in our defence. It took the introduction of Stringer at scrum-half to inject the necessary urgency into the Munster game, for which we should be grateful, and we should also remember that it's far too soon to write Stringer off. But look, let me say one thing. This quality of football is simply not good enough to win the Heineken Cup. It won't even be good enough to get out of the qualification stages. It's not enough.
This is far from encouraging, from a team who nearly beat the All Blacks only a few weeks ago. Not good. We need to take lessons from this experience and we need to apply them if we're to have any hope of progressing past the pool stage of the competition.
Yes, we got out of jail, but it's about time Munster, the current European champions, started thinking like champions. We need to forget about escaping at the last minute, and instead start putting our opponents away without ceremony. Unless we start doing that, we have no hope in the competition, this year or next.
What's more, my blood pressure can't take this shit.
______________________
My buddy Dickler sent me a few shots from the game. I took none of my own this time. Most of the pics are below the fold so be sure to click on Read More.