Bishop Magee — Where Do You Go To My Lovely?
This is John Magee, the Bishop of Cloyne. He's the guy who was
slated by his own church's investigation for failing to act on complaints of child abuse. He's also the guy who delayed publication of that report for six months by threatening the people who wrote it.
You can't say that, he told them, or I'll fuckin sue ya!
What would you think he wanted to sue them for? Would you like to know?
For telling the truth. That's what.
Now, you can read what I said about it here if you like, but today I want to talk about something different. You see, I'm trying to figure out what goes on in the mind of a seventeen-year-old gobshite from Newry who enters a religious order, becomes a priest, eventually gets a job as private secretary to a Pope who is then murdered by the Vatican Bank, and finally ends up as a bishop in Ireland.
The report shows Magee to be a man utterly unable to empathise with the victims of sexual abuse in his diocese. It also shows him to be a man more concerned with protecting his church than protecting the victims. It shows him to be uncomfortable about helping the police with their investigation, and possibly a man who thinks his church's private rules are more important than the law of the land.
But in all that time, I wonder if there was a constant overwhelming question running through his mind?
What was he thinking at the age of seventeen when he walked into the seminary?
What was he thinking at twenty-six when they made him a big important grown-up in Rome by giving him a certificate of knowing-all-about-being-a-priest? A degree in Stuff We Made Up.
What was he thinking when he found the body of Pope John Paul I who had just been murdered by Archbishop Marcinkus, president of the Vatican Bank?
What was he thinking when, as Bishop of Cloyne, he so lightly ignored the concerns of sexually-abused people?
What is he thinking now, as he lies in his bed, in his stripy nightgown and woolly socks?
Do you know what I reckon? I reckon he had one mighty question on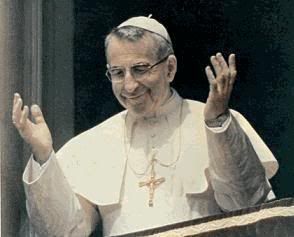 his mind. A conundrum so huge that he barely noticed the Pope was dead, and I reckon it never occurred to him that the old fella might have been murdered, which is why he called the embalmer instead of the police.
I reckon he was so taken up with his mighty enigma that he hardly even realised his priests were raping people in his diocese.
Do you know what I reckon this old man is asking himself now, in his sagging mattress with his hairy socks and his long, stripy nightgown?
He's saying to himself, I wonder what it's like to get laid?
That would account for all his stupidity over the years, wouldn't you think?
Green Ink cartooned a special request for me on this: HERE
______________________
Also on Bock: